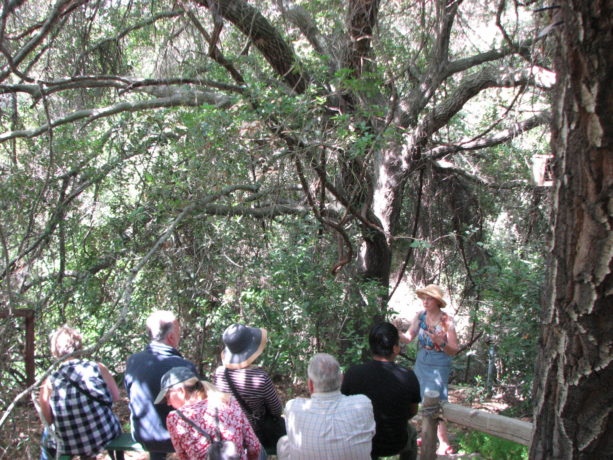 Finch Frolic Garden Permaculture's monthly tours are held on the third Sunday of the month from March through November. We close from Thanksgiving until the end of February.
We continue to give consultations and designs during the winter. Private tours can be arranged during our open months. (unless changed for a holiday or weather). Tours begin promptly at 10 am so please arrive ten minutes early to sign in and pay. We accept cash or checks, but not cards nor online pay venues (they take a chunk out of each business transaction and we charge very little for our tours and would like to keep it that way!) All is the same as our private tours; you must RSVP for Open Tours at dianeckennedy@prodigy.net .
All visitors must bring masks, and social distancing will be observed. Those without COVID vaccinations must wear their mask properly the entire time. Masks are optional for those who are vaccinated. Please respect the health of those around you; the COVID-19 virus is NOT gone, and we here at FFG Permaculture are taking all precautions to insure your health safety and our own. If you are sick, please stay home.
Private tours of Finch Frolic Garden are held by appointment for groups of 5 – 10 people, Thursdays – Mondays from March through Thanksgiving. Cost is $20 per person and the tour lasts about two hours. There is a base rate of $100 (or five people). Please reserve and receive directions through dianeckennedy@prodigy.net. Children 5 and under are free; ages 6 – 10 are $5. For school tours, there must be a minimum of five adults.
Please, no pets. Photos are allowed.
See details below:
No Description
Beautiful flowers, food, medicinal plants and building materials, all thrive in peaceful Finch Frolic Garden. Winding paths bring the visitor through living buildings and bridges made of recycled materials. Birds, butterflies and dragonflies are everywhere, as is the heady scent of fragrant plants and blooms. An unlined pond, a cob pizza oven, a compost bathroom, bee hives and chickens are some of the highlights of a Finch Frolic Garden Tour. Not one drop of chemical fertilizer, insecticide or herbicide is used on the property, so food and habitat is abundant.
Find out how you can use permaculture techniques on your own property – no matter how large or small – on a Finch Frolic Garden tour. Isn't it time for you to enjoy your property inexpensively, and stop pouring good money after bad while receiving worse results every year?
Finch Frolic Garden is a 1.68-acre permaculture based habitat located in Fallbrook, CA. It is privately owned by Diane Kennedy. Finch Frolic Garden is not open for general public admission, but can be visited through privately arranged tours. The tour is an introduction to permaculture with basic landscape designs explained. I show you how to use simple and inexpensive methods to garden, harvest water, grow an abundance of food and ornamentals using materials you probably already have. Tours can be custom designed for your group's interest. The tour fee is only $20 per person, with group sizes between 5 and 15 (or for smaller groups, a $100 minimum fee). Our tours aren't just a walk through the garden, they are a demonstration class of permaculture and sustainable living. We give you ideas, resources, facts, and answer all your gardening questions. The information can be applied to all gardens of any size, anywhere, and to gardeners of all physical ability and involvement. The Garden is also a wonderful destination for a group outing, such as for plein air artists, photographers and bird watchers.
Groups wanting to enjoy the garden for artistic or meditative purposes can arrange a tour followed by free time in the garden, to a total of four hours. A four-hour visit that includes a tour costs $50 per person. Every visitor must sign a hold harmless form. Please contact for more information at dianeckennedy@prodigy.net.
Scout groups, home schooling groups and school field trips are welcome. Hands-on projects can be arranged for merit badges or course curriculum.
Finch Frolic Gardens is not handicapped accessible, and parts of it has tricky footing. Children are welcome but may not run free. Pets are not permitted. As this is a private residence the plants and food produced are not for picking unless directed by the guide. Limited parking requires that groups carpool with no more than four vehicles. A waiver of liability must be signed by all participants.
I'm Diane Kennedy, and I'm a permaculturalist with my Permaculture Design Course certification, an AA in Landscape Architecture an an AA in Sustainable Landscape and Turf Managment, a certificate in Irrigation, a certificate in QWEL (Quality Water Efficient Landscaper), a freelance writer, naturalist and vegetarian. I'm a former County of San Diego Senior Park Ranger, San Diego Zoo Safari Park tour guide, middle school librarian and lifelong organic gardener. I have years of experience teaching all ages on a wide variety of topics.
Miranda Kennedy has a Bachelor of Science degree from Oregon State University in Wildlife Conservation. She was on the board of the Fallbrook Land Conservancy and wass a Ranger with the Wildlands Conservancy. She specializes in birds, insects and native plants, and speaks on living with wildlife, and other topics. She runs our Finch Frolic Facebook page, where she posts albums of insects and other animals identifying them and their role in the garden. She is available for consultations about wildlife, native plants, native insects, and permaculture.
To inquire about visiting Finch Frolic Gardens, or about hiring us for teaching, lecturing, consultation or writing, please email me at dianeckennedy@prodigy.net with FFG Inquiry as the subject.
Thank you, and I hope we can help you create a food forest habitat in your own yard.